This post may be sponsored
As you know, I'm a teacher. We are counting down the days to summer. We are ready! I always keep my kids home with me for the summer and we enjoy lots of time together. My older two are getting bigger (10 & almost 8) and are wanting to do more sports activities etc. The school year is crazy with everything going on so I've been neglecting them a little in this area. I was asked to advertise this British Summer Camp and there's one in our town. My kids want to go SO bad. Check out the details below and get some freebies!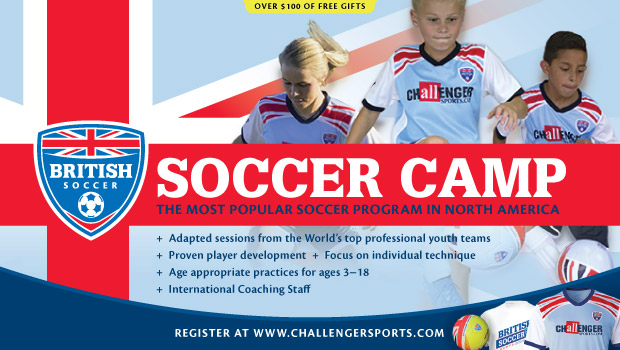 British Soccer Camps are the most popular soccer camp in the US. With an innovative curriculum that develops skills, speed and confidence in players ages 3-18, The British Soccer Camp provide boys and girls with the rare opportunity to receive high-level soccer coaching from a team of international expert's right in the heart of their own community. In addition to teaching new skills and improving game performance, each British Soccer Camp provides lessons in character development, cultural education and is the most fun your child can have learning the sport they love!


REGISTER FOR CAMP & GET A JERSEY, BALL, T SHIRT & NEW SKILLS APP AND 20 FREE VIDEOS!

Enroll in the most popular soccer camp in North America! British Soccer Camps have programs for all ages and abilities and feature an innovative curriculum full of skills, drills, and thrills! 4
Register now and you will not only get your free British Soccer game jersey (value $34.95) shipped to you for free immediately, but you will also get our brand new skill development App and 20 videos to help your child practice at home. Your soccer ball, T-shirt & poster will be given out at camp.
USE CODE BSC18 at check out to get free shipping.

To Enroll: https://www.challengersports.com/british-soccer/