This post may be sponsored.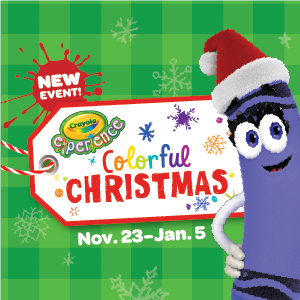 My kids LOVE Crayola Experience! It has been awhile since we've gone and we are excited about the upcoming Christmas activities. Crayola Experience is a top field trip place around here as well. Lots of creative fun to be had by all. Save $4 off General admission tickets with the link below.
Discover the magic of color at Crayola's premier, one-of-a-kind family attraction!
Imagination is your greatest tool at Crayola Experience. 70,000 square feet of colorful fun and 27 hands on attractions await visitors. Name and wrap your very own Crayola crayon! Learn how crayons are made in a live manufacturing show, sculpt colorful creations using Crayola Model Magic, melt down crayons into shapes and take Silly Selfies. Create unique keepsakes with melted wax, star in your own coloring page, watch your paper creation come to life as it dances it the spotlight, climb the 2 story color playground, see the World's Largest Crayola crayon and so much more. Plus, don't miss Crayola's award-winning toy turned life-sized attraction. Color, scrub and play with your Scribble Scrubbie - a washable pet perfect for hours of creative fun!
While visiting, shop from the largest selection of Crayola products and discover one-of-a-kind souvenirs at the Crayola retail store. Pick your very own collection of Crayola crayons and markers from 99 of Crayola's most popular colors. The retail store is open to the public daily; 365 days a year.
SAVE $4.00 Off General Admission - Purchase tickets online to SAVE $4 Off general admission to Crayola Experience Orlando. Go to: HERE!