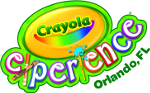 We took the kids to Crayola Experience last summer and they loved it. I chased after the younger two (1.5yrs old at the time) while my husband took the older 2 to the different stations. They LOVED naming their own crayon. They got to mold their own crayon shapes. There was a huge lite brite type thing that the twins loved. Plus a play area for older kids and younger kids. They had a show and a crayola magic mold section. Lots to do
Twins having a blast at Crayola experience!
Now you can save $4 if you purchase online! This is directly from the lovely people at Crayola Experience.
Discover the magic of color with 26 hands-on attractions. More than 70,000 square feet of wonderful, whimsical adventures await your family at this one-of-a-kind attraction located at the Florida Mall in Orlando, Florida. Bigger, brighter and bolder than ever, the colorful adventures of Crayola Experience help kids and adults alike explore art and technology, express their creativity and experience color in a whole new way. Also, featuring live entertainment. To learn more, visit www.crayolaexperience.com or join the conversation
SAVE $4 OFF General Admission to Crayola Experience when purchased online via this link.